When Lily and I were in high school we were always infatuated with the quintessential female heroins of teenage culture. Cher & Dionne, Paris & Nicole, Britney & Christina, and then, Mean Girls. A movie that captured high school pretty well, actually, and made us feel like people do understand! Almost a decade later (I said ALMOST!) here we are; evolved, "grown-up," business owners, and above all, still just as in love with our adolescent dreamgirls. While we may gravitate more towards black and white versus pink and obnoxious, deep down we still carry an affinity for girly things (see: hot pink Christian Louboutins above). People always find it bizarre that we foster a "relationship" with fictional characters in such a passionate manner, but really, very few people have the same eye as my non-fictional friend Lily. She is my Rihanna and I'm her Beyonce–in some ways complete opposites, but ultimately friends for life.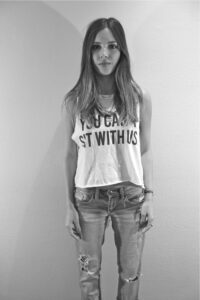 You Can't Sit With Us tees (Brandy Melville–sold out) // BLANKNYC boyfriend jeans // BLANKNYC vegan leather pants // Zara Heels // Christian Louboutins heels // Heart glasses (thrift shop)
To purchase parts of our outfit visit elle a boutique in woodland hills (next to ValSurf). Lily's flagship store in The Valley! She has more of what we are showcasing here + so much more!