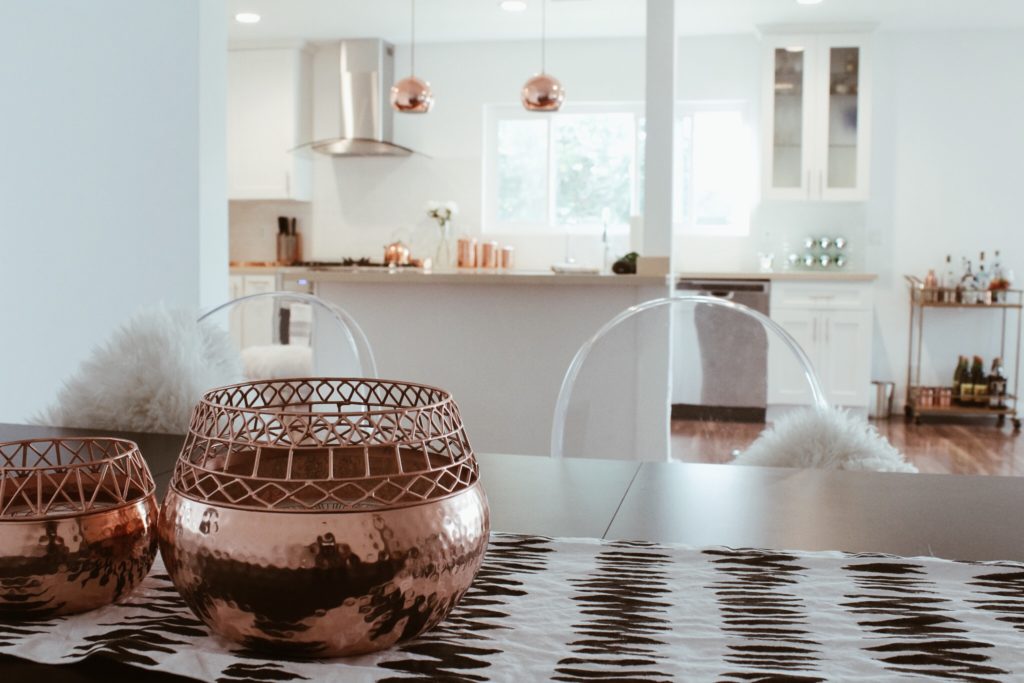 Our kitchen / dining is in an open-concept space that I absolutely love. There is also a small sitting room right off the kitchen that desperately needs furniture!

So it's been about a month living in the new house and let me tell you, it is a lot of work. We were lucky enough to find a house that was fully remodeled and almost exactly what we would want–in other words, there are a few small changes we have already made and will be making after the wedding–but even without any major construction to do we are just finding ourselves adding to our list everyday. That is one of my pet peeves by the way; when instead of crossing existing things off the list you are simply adding to it and sometimes crossing those off (so basically you are doing things but they weren't originally on the list so it doesn't really count, right?).
Since I still have a long way to go in terms of furnishing this house, I figured I would share some of my favorite corners. Small little areas that I have somewhat of a grasp on and feel good enough about to actually document on the blog. I have been asked by a few of you to do a full home tour and I promise to do so once we are a little more settled in. In the meantime, enjoy these.
Biggest project on the list: the counter-tops.
Love this acrylic wine rack that I've converted into my Pellegrino rack. Can't live without my sparkling water. I also didn't have anything else to fill the counters with so…
My office has a little mid-century modern mixed with girly touches throughout.
I have this cute windowsill in my office that I now use as a jewelry display.
My bedside situation is pretty clean with black, silver, and gold accents.
I knew I wanted 2 poufs in our main living room. They are perfect for sitting around the coffee table when playing games, which is something we do often.
This is my favorite Ikea hack so far. I sprayed these shelves gold and it really transformed them into a piece that showcases my design & fashion books perfectly.
Since I won't be doing marble in the kitchen I added little splashes of it like in the guest bathroom.
And marble in this coffee table in the sitting room.
Our backyard will be the biggest undertaking since we want to add a deck with a firepit. We don't have a pool so it is important to us to make the most of the space since we absolutely love utilizing the yard.
Currently my favorite part of the backyard is this fringe hammock.