I feel as though I need to re-introduce myself to the world, as 3 weeks of being out of the country traveling, getting married, and being on a honeymoon changes a person. A lot. Aside from the fact my name has changed and I am now Mrs. Sivan Ayla Richards, my marital status has changed, my skin color has changed, my stress level has changed (it reduced, actually), and I'd say that makes for a pretty new person, don't you?
There is so much to discuss and share in regards to the last 3 weeks of my life it has been a challenge deciding where to begin. I figured since Greece is fresh on my mind and my pro-con lists (of mainly pros) of traveling among the islands is already done I would start there. If you have been following me on Instagram you would know that I traveled to 4 Greek islands and 2 beautiful towns in Italy last month and I have pretty much an encyclopedia-sized travel diary to share on each city. I will create a new post for each spot, as the information can get jumbled together and at times seem a bit overwhelming.
In case you didn't / don't follow me on Insta, I will be covering the Greek islands Naxos, Mykonos, Santorini, & Milos. I will also share my insight on Lake Como & Milan in Italy.
And yes, I fully intend to share every detail of my wedding (and wedding festivities) with you. However, I do have to wait a few months to get my pictures back. It's probably a blessing in disguise that it will take so long since sorting through my own photos has been such a mission, I cannot even imagine getting into those yet…
I am going to start off with my review of the Greek island Naxos. It is the island we selected to get married on. Prepare yourself: this post will get a little lengthy since I now have an extremely sentimental view of this island and will share the back story of how we picked this beautiful place.
After deciding to have a destination wedding, I was on a mad hunt to find the perfect Greek island to tie the knot. I had seen the work of an amazing photographer, Adonis Kekidakis, and instantly knew I had to work with him. He also happened to photograph a wedding on Naxos at the Banana Beach Bar + Restaurant, where I would later have my wedding as well. I didn't fully knock-off that person's wedding but let me tell you…the photos and venue did not disappoint.
I won't get into too many details about the wedding and all the incredible people on Naxos that I feel have become a part of my family just yet, but I will mention that every single person I encountered on that island was above and beyond friendly, hospitable, and genuine. Thank you to each and every one of you who made this wedding the most special day of my life.
Now, let's talk travel: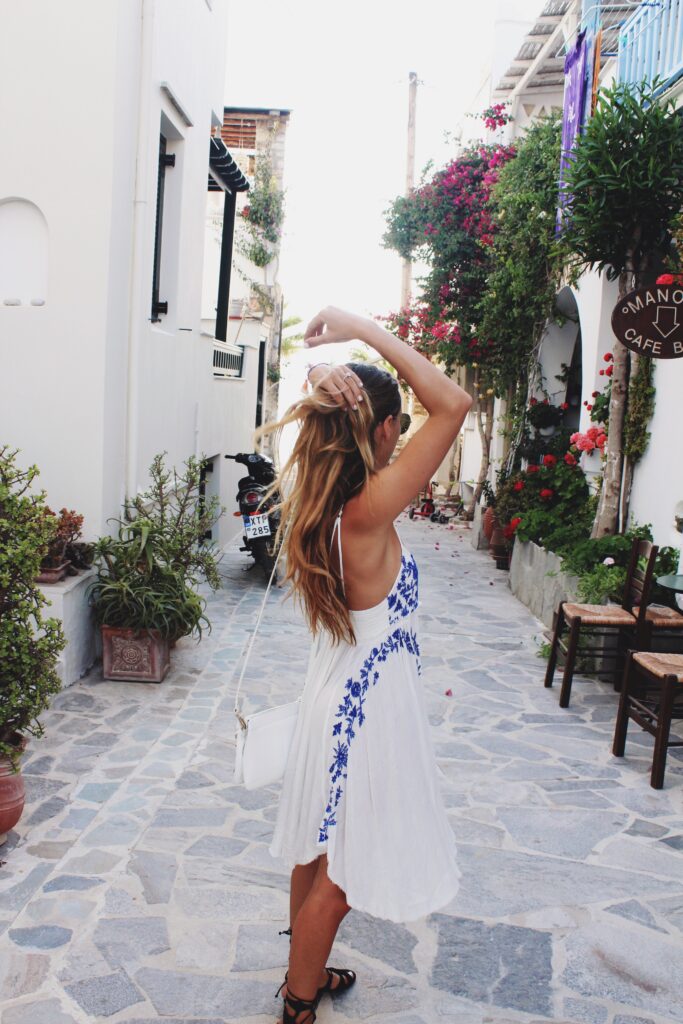 Naxos:
-It is a very laid back island. People for the most part walk around barefoot (even in restaurants). If anyone really knows me they know I love being barefoot. So dirty, but true.
-The people are very friendly and easy to talk to. They seem very eager to please in a non-forced way. I made a lot of friends on that island that I already miss.
-My favorite restaurants:
Banana Beach Bar + Restaurant: The owner Maria will personally make sure your experience is nothing short of perfection. Everything is possible at this place! The food is excellent, the music is always right, their bar-tenders and mixologists will blow you away with the cocktails they create. I had a Moscow Mule that took a full 15 minutes (no exaggeration & I wasn't mad about it) as they molded a bucket made of ice around the cup. It was incredible. The crew at Banana (which you will become friends with since they are always there) are also extremely sweet. The combination of the natural beauty surrounding this place since it is on the beach, mixed with the clean white candles covering the restaurant is simply bliss.
Yazoo Summer Bliss: We had our rehearsal dinner at this restaurant and later took the place over as they didn't close until we were done dancing and drinking. The decor is extremely whimsical with draped white fabric and Moroccan lanterns hanging from the ceiling. The ambiance is beautiful. The food and drinks were also outstanding, with one lavender martini standing out as my favorite.
L'Osteria: You will find that once you've had authentic Greek food for breakfast, lunch, and dinner day after day you will want a break. This place had delicious Italian right on the beach.
Island Bar: Only 2 doors down from Banana, this bar is the nightlife of the island. Drinks are great, music is fun, and again, the view of the ocean doesn't get old.
-I stayed at the Iria Beach Hotel and unsurprisingly everyone was wonderful there as well. Maria runs the hotel, conveniently located on the beach next to all the restaurants listed above, and has a friendly crew that prepares a delicious complimentary breakfast every morning. The rooms were all decorated slightly different giving a very cozy vibe.
-The island in general is very affordable in comparison to the others. Everything from meals, souvenirs, car rentals, water sports, etc. are a lot more reasonable.
-The sea is warmer on Naxos. Not sure why, but it is.
-I highly suggest taking a sunset sail to the island Paros. At the Agia Anna dock there is a boat called Lason that goes out every afternoon. It is very easily arranged through any hotel. We took all our guests out one evening and it was an incredible night that also made for a great photo-op.
-Naxos seems like the most authentic Greek island (from the ones I visited). The architecture and landscaping is exactly what you would imagine Greece to be visually–or if you have ever watched Mama Mia you know what I'm talking about. It is not overly developed or touristy, just a nice quiet beach island that has a lot of offer.
-I learned the term 'organized beaches' on this trip because that is what they refer to as umbrellas and chairs in front of the restaurants on the beach. Most restaurants offer this service (some charge, some don't) but overall I had no desire for a pool on this island with the beautiful beach right at my toes.
-Naxos town near the port where the ferry departs has some beautiful historical sites and restaurants that I did not explore so much. I did wander the streets one morning with my mother to find a bakery (and found my wedding florist by accident!) and bought some incredible olive oil and olives to bring back home. Shopping on Naxos is necessary!
-We arranged a private bus to take us and all of our guests around the island to explore the more local parts of town. I'm not a big organized tour person but I'm glad I went otherwise I would have missed some beautiful architecture and artisans that make some of the most beautiful pottery and wovens I've ever seen. I think you need 1 full day to see the whole island. The rest of the time I would just stick to the beach.
-The streets of Naxos are a much safer (and emptier) place to ride ATV's. It's a huge attraction/mode of transportation on all the islands but this one specifically seems the safest.
Honestly, despite getting married on this island I still name it my favorite. There is nothing like traveling to a foreign place and feeling right at home. There was never a moment the island didn't provide me with everything I wanted/needed and more, and I can genuinely say that Naxos is a hidden gem.