THINGS TO DO IN LOS OLIVOS
Almost 3 years ago Paul proposed to me on the Fess Parker vineyard in Los Olivos. I had never been to Los Olivos at the time, and with us just having got engaged, I was a little overwhelmed. I didn't get to properly explore the town (not city) so I was thrilled when Paul picked Los Olivos as the place to celebrate his birthday. In a nutshell, Los Olivos is the real life Stars Hallow. Don't know what I'm talking about? Well, then I'm not sure we can be real life friends. The town spans for one entire street that is no longer than a mile long. While you can see the whole town in one day, you will want to spend at least a weekend there to really get the vibe.
We drove up on Friday afternoon, hit major traffic, and didn't make it before absolutely every last vineyard and tasting room closed (FAIL). However, we did make it just in time for our hotel's happy hour so we were just fine. Like last time, we stayed at the Fess Parker and it is such a beautiful property. The colonial architecture mixed with the contemporary decor makes you feel super classy, even when you're sipping on rosé at 11 in the morning.
Everything about the place is extraordinary. The food, the wine, the cocktails, the spa, the pool, the fireplace, the rooms, the service…need I go on? I highly recommend staying here for a romantical weekend getaway. Aside from loving this hotel, here are some fun things to do when up in Los Olivos.
BTW, did you catch our engagement reenactment on my Snapchat?! That was very fun…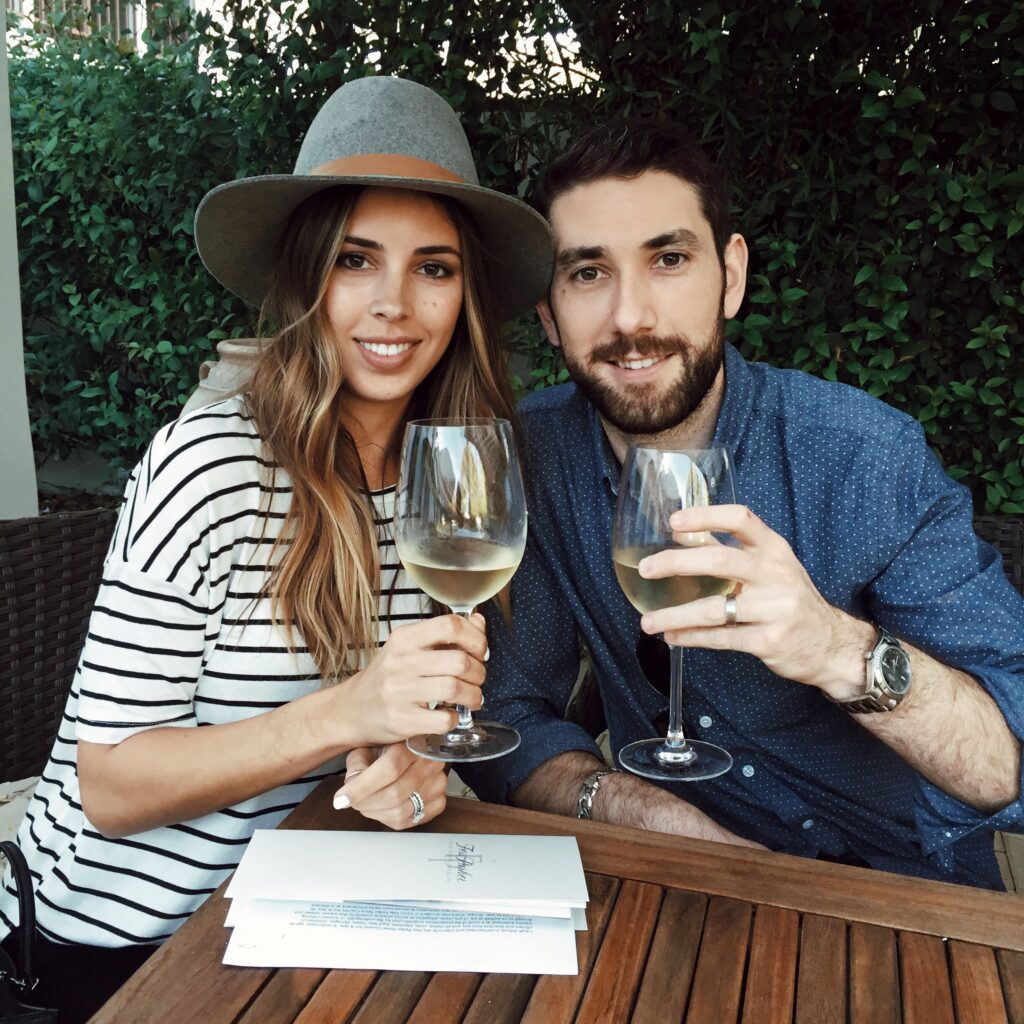 Things To Do + See in Los Olivos:
-Spend a day on the vineyards. I have a sentimental love for the Fess Parker vineyard, but it's hard not to love the place. There is a large grassy area overlooking the grapevines that make for the perfect picnic (or proposal) setting. The wine isn't bad, either.
–Drink wine at the Firestone vineyard. Don't be surprised when every suggestion includes drinking wine. Andrew Firestone was on season 3 of The Bachelor so this vineyard is popping. It has a much younger vibe and the view is spectacular. Probably the best one I've seen up there yet.
–Eat at Petros. For breakfast AND dinner. They have a Greek omelette that is out of this world. When I first had breakfast there 3 years ago I came home and attempted to copy this omelette for months! For dinner all their specials are phenomenal, and the homemade cheesecake is just not normal. I may or may not have tried 4 different desserts there…and they may or may not have ALL been to die for.
–Get a massage at the Fess Parker. Their spa is everything you want in a spa. Small, intimate, soothing, clean. I got a rejuvenating massage that began with dry brushing and you better believe I'll be doing a post on my newfound love for dry brushing!
–Wine taste at all the tasting rooms. Remember that one street I told you about that makes up all of Los Olivos? Well, apparently, that one street alone has 40 tasting rooms. Just make sure you start in the morning because the final pour is normally at 4:45PM for most of them. My favorites are Epiphany, Tessa Marie, and Sarloos & Sons.
–Buy a bottle of rosé. From the Demetria winery if you can get your hands on it. If you love rosé you will love this bottle.
–On your way home stop in Solvang. So I'm not the biggest fan of "Dutch / Danish" town, but I did stumble across some fabulous bakeries, shops, and my favorite, the Landsby. The Landsby is an inn I found online a while back and finally got to visit this weekend. It is every bit as perfect as the pictures show. The interior design of the place is impeccable–just imagine major home decor goals. And the olives and cocktails are outstanding. I sneaked around upstairs and got to see some of the rooms and O M G are they beautiful!