5 Incredible Beauty Tips from Lauryn of The Skinny Confidential
HI HELLO WHAT'S UP?
My name is Lauryn Evarts Bosstick, creator of The Skinny Confidential. It's your cheeky wellness/beauty resource, as well as a podcast, blog, & a book. I am just so excited to be guest posting on Sivan's blog today. Sivan is someone who I've really seen flourish in the influencer space- she's one of the unique few who has a very specific opinion & does a really good job of communicating it to her audience. I think she's feisty, vivacious, likable, funny & definitely one to watch for.
It's cool to watch her balance her gorgeous home, beautiful baby, husband & business too. I always say if I wasn't a blogger, I would be a talent scout & there's just something sparkly about Sivan- anyway it's very much clear that she has the IT factor.
We met years ago at The Skinny Confidential x CASETIFY phone case launch. From then on I started following her & was very impressed with the value she provided, the community she created & her quality content. Like me, she's very spicy!
SO TODAY- Sivan & I decided to do a guest post on each other's blog, which is super fun. Thank you guys for having me !! With that, let's get into my 5 beauty tips which are ones I keep going back to ( like I just can't stop ).
Shall we?
1.) Facial Massage is LIFE
For this specific tip I want to give you a rich girl/poor girl option. But first, let's get into why facial massage is crucial.
♡ increases circulation
♡ you get a natural facelift
♡ all skin care products will absorb better
♡ prevents fine lines & wrinkles
♡ it will make skin appear more youthful/younger !!!!
…OH & it feels fucking GREAT
I discovered facial massage after my first jaw surgery & never looked back. So let's get into my 2 favorite ways to do facial massage.
Rich Girl: The Clarisonic Smart Profile Uplift. This. Is. My. Ride. Or. Die. Facial. Massager. It's just too good. It's on the pricier side, but hear me out. IT WORKS. I've said it once & I'll say it again- I really don't like blogging about anything until I've tried it a lot. The integrity of The Skinny Confidential is important to me so I don't want to half-ass recommend something that isn't worth it. This little vibrating machine is worth it. It's not cheap- but I love it. This is the kind of investment I like. Some girls like their Louboutins, I like my facial massager. I'd rather have a tight, wrinkle-free face than cute shoes. But that's just me.
All you do is go in little circles all over your face. Always use it before you apply makeup & really concentrate around the eyes so you don't have those puffy under circles. I go as far as doing my neck because it really helps with the lymphatic system. Even my chest sometimes- I'll apply Vitamin C serum & use it on my chest at night. Regardless, it wakes you up & gets the circulation going. You will feel dewier, tighter, younger, etc.
Oh, I like to use serums or oils while I'm massaging too. A brightening or a Vitamin C serum is great, or I'll use an organic, cold-pressed rosehip seed oil. Easy. Quick. & fabulous. Rubby, rub.
Poor Girl: A little pink vibrator. That's right. A vibrator. Don't want to splurge on a Clarisonic? I got you covered. My sister actually discovered that this little gem would make the perfect facial massager. Soooooo!!! Of course I did what I always do- I had her try it for a month & I tried it on myself- AND SLAP ME SILLY, IT WORKS! Not only does it fucking work, IT RULES. & it's only $12. Sure, there are some elements that we could improve on here & there BUT it's really something every girl should have for her face…( & while we're on the subject, get a separate one for other things, if you know what I mean? ).
THE SKINNY CONFIDENTIAL VIBRATOR HACK: HOW-TO:
♡ First things first ok? You will want to prep your skin in the morning- set 5 minutes a day in the morning to pamper your skin. My opinion here: if people don't have 5 minutes in the morning, they don't have a life. It's your skin- your face, you have it forever- take good care of it! Anyway, I like to do a toner or mandelic serum to start, maybe even a peel pad moment too.
♡ Then you're going to want to use a buttery moisturizer. You can watch my whole skincare routine here if you want specifics.
♡ After you're all moisturized, grab some oils. Like I said, I love an organic rosehip seed oil.
♡ NOW IT'S TIME TO VIBRATE. I like to do massage after oils. Go around your eyes gently & all over your face with your vibrator. Go from your nose to your ear & then pull down the neck to get all that lymphatic drainage going. Easy. In the morning, use the vibrator for 2-5 minutes. ( At night, I can go 10 minutes while watching Housewives. Mimi ends her night with TWENTY minutes of facial massage- she swears by it ).
** note: there are different caps for the vibrator- on your face: use the rounded one ( NOT the one with the spikes ). On your flower: you do you ( definitely add some Woo Coconut Lube though- LOL. )
*** ALSO NOTE: you will need to buy batteries separately- get double A ( AA ).
2.) Plump Your Pout
Everyone is always worried about wrinkles on their face, chest & hands, but not their lips. Your lips are so important. I feel like I'm always drinking out of a straw, so this is very much necessary for me. The cool thing about this lip mask is you put it on before you go to sleep & when you wake up, it's still on. And I mean it REALLY stays on, guys. I also use this as a lip gloss during the day- it makes a great primer to use under your lipstick.
It smells like a mixture of raspberries, strawberries & cranberries and has tons & tons of antioxidants and Vitamin C. It also has hyaluronic acid & minerals so it allows for a slow release of moisture over the hours that you're asleep. You seriously wake up with these plump, soft, pillowy lips. It comes with this cute little applicator spoon to apply it too. So what you do is, take this little spoon & apply it on your lips before you go to sleep, wake up, & wipe it off. If you had any dryness or flaking on your lips before bed, you won't in the morning. I promise. I don't wipe it off when I wake up, I just keep it on- but that's just me. We're a little extra over here. I also leave a 20 minute face mask on for 2 hours. Anyways….
Basically, the things I like about it are:
♡ it's going to completely moisturize your lips.
♡ it stays on your lips overnight.
♡ it will make your lips feel the softest they've ever felt.
♡ it's pink & has super cute packaging.
3.) Cinnamon, Nutmeg & Inulin Coffee
I love a good coffee situation in the morning. This inulin coffee has become such a staple & I also love the routine of making it. Let's start with why inulin is a standout star: First off, if you intermittent fast, you can still add this to your black coffee. It will not disrupt your fasting. Secondly, it's pure fiber which means it will keep you full longer, keep you regular ( wink, wink ), helps detoxify your body, & promotes good digestion because it's a prebiotic.
HOW TO MAKE BADASS FIBER COFFEE:
♡ 1-2 scoops inulin powder
♡ a ton of cinnamon & nutmeg
♡ 1-2 teaspoons sukrin gold
♡ 1/2 cup cashew or almond milk ( I like Malk or Plenish+ )
**You should know that nutmeg & cinnamon are filled with antioxidants, & cinnamon especially helps regulate blood sugar so it's great to pair it with your coffee. These spices can also help you really cut back on sugar & sweeteners in drinks.
HOT directions: combine inulin powder, cinnamon, nutmeg & sukrin in coffee cup. stir, stir, stir! add milk and stir, stir, stir! add coffee. stir & enjoy!
ICED directions: combine inulin powder, cinnamon, nutmeg, sukrin & milk in coffee cup with ice. add coffee. stir, stir, stir & enjoy!
Ok but when I say STIR…I mean REALLY stir… with the best little gadget that will take your fiber coffee to the next level. A pink frother. Gone are the days of cinnamon & nutmeg chunks in your coffee- it's just not right. Coffee is meant to be enjoyed & IT IS NOT enjoyable when there's a big cinnamon turd floating in your cup. It's only $7 & makes your coffee smooth, delicious & blended.
4.) Dry Brushing For Your Lymphatic System
Dry brushing is something I've been doing FOREVER. Ever since my jaw surgery, I've been obsessed with the lymphatic system & will do anything to get it going ( that includes facial massage, guys ). Let's get right into the benefits:
♡ STIMULATES LYMPHATIC SYSTEM
In your body, your lymphatic system is the system responsible for eliminating cellular waste products. Hundreds of miles of lymphatic tubules allow waste to be collected from your tissues & transported to your blood for elimination, a process referred to as lymphatic drainage.
When your lymphatic system is not working properly, waste and toxins can build up & make you sick. Lymphatic congestion is a major factor leading to inflammation & disease. By stimulating your lymphatic system & helping it release toxins, dry skin brushing is a powerful detoxification aid…YES PLZ.
♡ EXFOLIATES
Dry skin brushing removes dead dry skin, improves appearance, clears your clogged pores, & allows your skin to "breathe."
♡ INCREASES CIRCULATION
When you dry brush your skin, it increases circulation to your skin, which encourages the elimination of metabolic waste.
♡ REDUCES CELLULITE
Dry skin brushing may help to soften hard fat deposits below the skin while distributing fat deposits more evenly. This may help to diminish the appearance of cellulite.
Dry brushing is also said to help reduce cellulite by removing toxins that may break down connective tissue, although some believe the effect is temporary ( & mostly a result of skin becoming more plump and swollen after brushing ). The Huffington Post reported: "when we'd heard dry skin brushing was an effective method for reducing cellulite, we knew we had to include it in our anti-cellulite road test. Sure enough, it was indeed one of the more successful ways to smooth away less-than-perfect spots on your legs."
♡ RELIEVES STRESS
The act of dry brushing has been described as meditative ( especially if you do it in a quiet space ) & may reduce muscle tension, calm your mind, & even relieve stress. Many compare it to a light whole-body massage.
♡ IMPROVES DIGESTION & KIDNEY FUNCTION
Dry skin brushing may go even deeper, helping to support your digestion and organ function. According to one skin care & spa expert: "…many naturopathic doctors use dry brushing to help with bloating because massaging the lymph nodes helps the body shed excess water and toxins. One of the immediate effects of dry brushing is smoother skin, but it can also help improve digestion, kidney function, & more."
♡ IT'S INVIGORATING AF
Many people become "addicted" to dry skin brushing ( in a good way LIKE ME ) because it simply feels so good. Along with glowing & tighter skin, regular dry skin brushers report feeling invigorated after a quick session.
Here are some specific dry brushing directions for you:
+ Start on dry skin before bathing & work in gentle circular, upward motions, then longer, smoother strokes.
+ Always begin at the ankles in upwards movements towards the heart – the lymphatic fluid flows through the body towards the heart, so it's important that you brush in the same direction.
+ Your back is the only exception to the preceding rule; brush from the neck down to the lower back.
+ After you've finished with the ankles, move up to the lower legs, thighs, stomach, back and arms. Be cautious of softer & sensitive skin around the chest & breasts, and never brush over inflamed skin, sores, sun-burnt skin, or skin cancer. ( Also: ensure you shower to wash away the dead skin cells & impurities ).
Tippity tip: alternating temperatures in the shower from hot to cold will further invigorate the skin and stimulate blood circulation, bring more blood to the outer layers of the skin.
5.) Oils, Oils, Oils – take the oils to your tits
Totally obsessed with oils. I've been using them since I was a teenager- I'm tell you, you don't need a bunch of high-end oils. You don't have to go to Sephora, you can just go to the grocery store or Amazon- just go for anything that's organic & cold-pressed. You can get olive oil, jojoba oil, avocado oil, grapeseed oil, or rosehip oil. Stop buying expensive wipes & put any of these oils on a cotton pad to remove makeup & get your skin super glowy & dewy. We always want dewy. My favorite thing to do is order a side of olive oil from room service when I'm on vacation. Ha!
I feel like a lot of makeup removing wipes pull the face down, but with oils the makeup literally melts off of your face. Any oil you get will be very useful for facial massage too.
This is one of my best tips & I feel like it's the key to youth !!!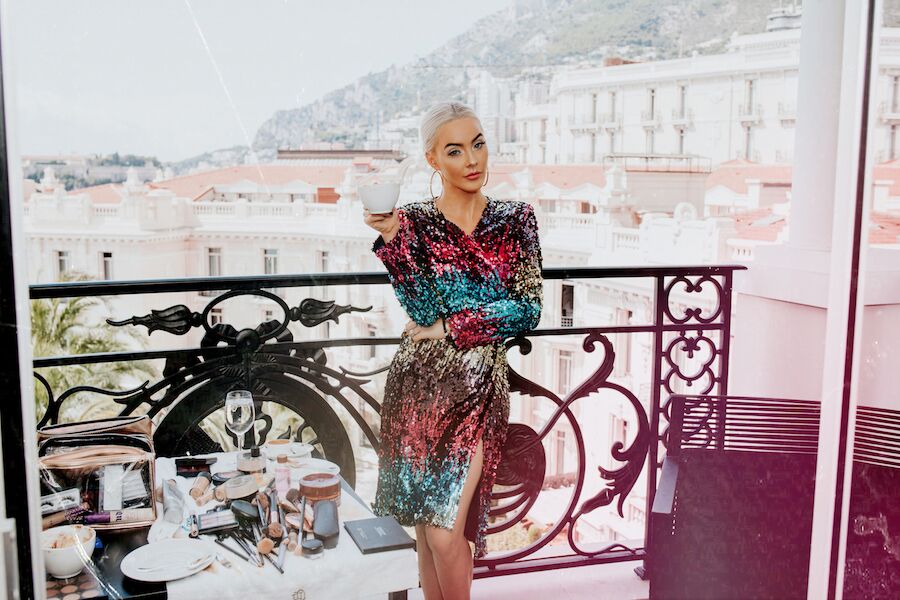 Thank you so much for having me Sivan & the whole Lux Unfiltered community. See you all on Instagram. You can follow along @theskinnyconfidential.
& Sivan, come back on the blog anytime you want ; ).
x, lauryn