DETAILS ON MY
Current Kitchen
As I mentioned in this post, I finally got my entire Valley house shot and I'm doing my best to round up each space before we move. I know I ignore a bunch of questions of 'where is X from?' in my DMs because it's always my intention to share every room in our house on the blog…it just takes me a while to get around to it. With that, here are all the details of our current kitchen. We've given it a facelift since moving in a few years ago and it's been good to us, but I can't wait for my new dream kitchen!!!! Lots more on that to come.
I'm sure I forgot some links so just let me know in the comments section if that's the case, and for anything that's sold out or was a flea market find, I tried to link similar alternatives.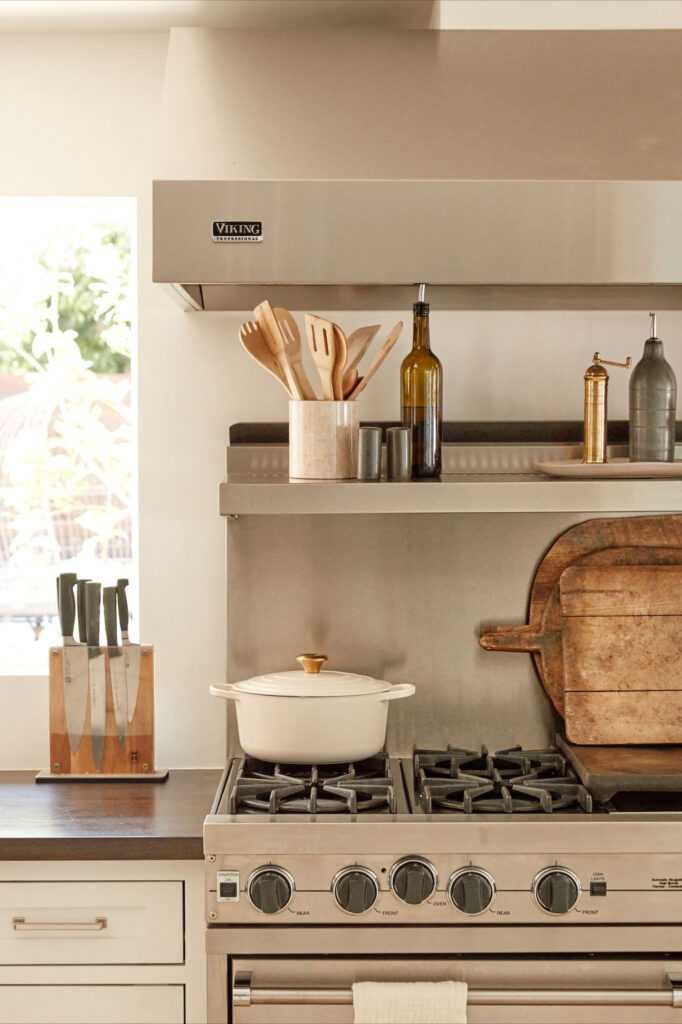 FURNITURE + LARGER PIECES
+ Cabinet hardware via Build.com
+ Shade via Wendy Bellissimo. Lots of questions on these and they're custom and remote-controlled. Contact Wendy for a consultation (virtual or in-home).
+ Barstools via West Elm
+ Pendants via Rejuvenation
+ Pans via All-Clad and Green Pan
DECOR + DETAILS
+ Knife set via Crate and Barrel
+ Bowl on counter with napkins via Restoration Hardware
+ Linen napkins in bowl via McGee & Co (sold out). More I like:

+ Island bowl via Pottery Barn
+ Large grey vase via McGee & Co
+ Brass pepper mill via Amber Interiors
+ Serveware / Trays via Home by BE
+ White bowls & plates via Anthropologie (Tess collection; sold out). Always a lot of questions on these so sharing some other plates, etc. I like:

+ Olive Oil dispenser via Etsy (sold out; this is similar and I'm also into this vibe)
+ Dishrag on range via Amber Interiors
+ Little marble tray by sink via Bed Bath & Beyond (old; similar option)
+ Little ceramic colander on counter via Amber Interiors (cute + cheaper version)
+ Breadboards via Paula Rallis Home. Etsy has a ton too like these; just search 'vintage wood breadboards'.
+ Salt dispensers & crock via Goodies LA
+ Cookbooks. I have a million, TBH. These are the cutest ones I tend to keep out:

+ Green water glasses via Amber Interiors
+ Black bowls via Home Goods; these are similar
+ Paper towel dispenser via Target (old but I'm into this)
+ Glass jars via McGee & Co
+ Le Creuset Dutch Oven via Crate & Barrel