#SIVANDIEGO -
Powder Room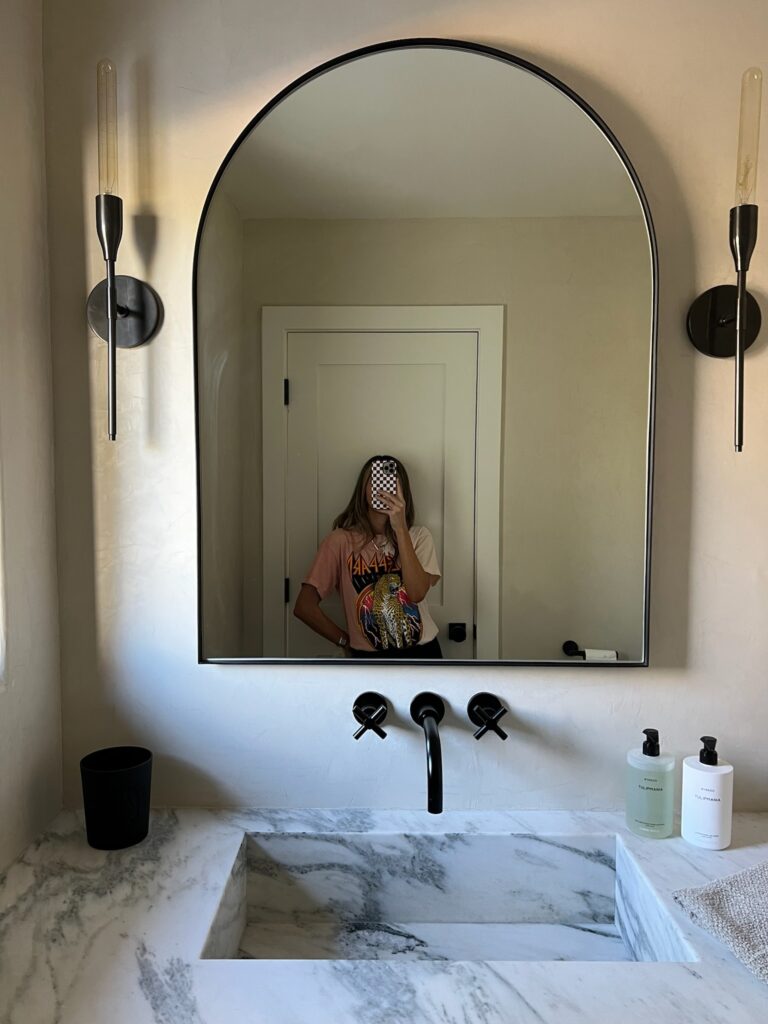 One thing I both love & hate about our new house is the number of bathrooms. It's been fun giving each one a unique look in the remodel, but annoying to keep each one stocked with toilet paper, soap, candles, etc. and the amount of cleaning they require. We did eliminate 1 bathroom during the remodel, but it's still excessive, IMO. Another bathroom we were considering eliminating is this powder room off the kitchen because it seemed oddly located. However, I'm glad we kept it since we spend so much time in the kitchen area and obviously need easy access to a bathroom.
This bathroom actually has the simplest design (aesthetically) out of all the bathrooms and I love it the most. Here's what makes it the simplest to me: we carried the same tile from the kitchen into this bathroom. There's no backsplash. And we integrated the sink into the countertop, so that's one less thing to pick out. Honestly, the less finishes I have to pick the better.
Not that I don't love designing bathrooms, but it takes me a realllllly long time to find stuff that I love / things that are realistic, available, and not $$$$$$$$.
So, here's the 411 on this powder bathroom:
+ The walls are Roman clay in the color Patagonia by Portola Paints.
+ The countertop is marble, and as I mentioned above, the sink was custom made out of the same material.
+ Sink hardware is Newport Brass in the East Linear collection, matte black.
+ Mirror is from McGee & Co.
+ Sconces are from Lulu & Georgia.
+ Tile on the floor is the same as my kitchen.
+ Floating shelf below the counter was custom made using a wood plant found at a lumber yard.
+ The vase is Olive Atelier and branches are from the flower mart but I'll link similar vases I like below. Branches are hard to find – I've had the best luck at flea or flower markets or with this search on Etsy.