I have a confession, I totally knocked off my mom's recipe here. She has been making what she calls "Angel Hair Pasta" my entire life and here I am claiming it's my recipe. However, there are a few slight differences (that I'm aware of). Basically the way this recipe came to be is one day all I had in my refrigerator was cherry tomatoes, basil, and a ton of garlic and I had to make dinner. In an attempt to make something delicious with just these 3 items, I eventually realized I had just made my mom's AHP. Since I like to have a source of protein with every meal I eat, I also cooked a side of chicken.
I think part of me was channeling those easy, light pasta dishes I ate in Italy but in reality I was just resorting back to what I know. This pasta is so fragrant when it's cooking you will be overwhelmed with how amazing it smells in your house for days to come. The key to making this dish above average is good olive oil. I go on and on about this on Snapchat–invest in a REAL, delicious, slightly more expensive oil for dishes like this. Don't use it for cooking, it's used more as a topper (on pastas, salads, etc.). It will change the whole taste of your food in the best possible way.
If you have 20-30 minutes to spare for dinner tonight, try my / my mom's recipe below: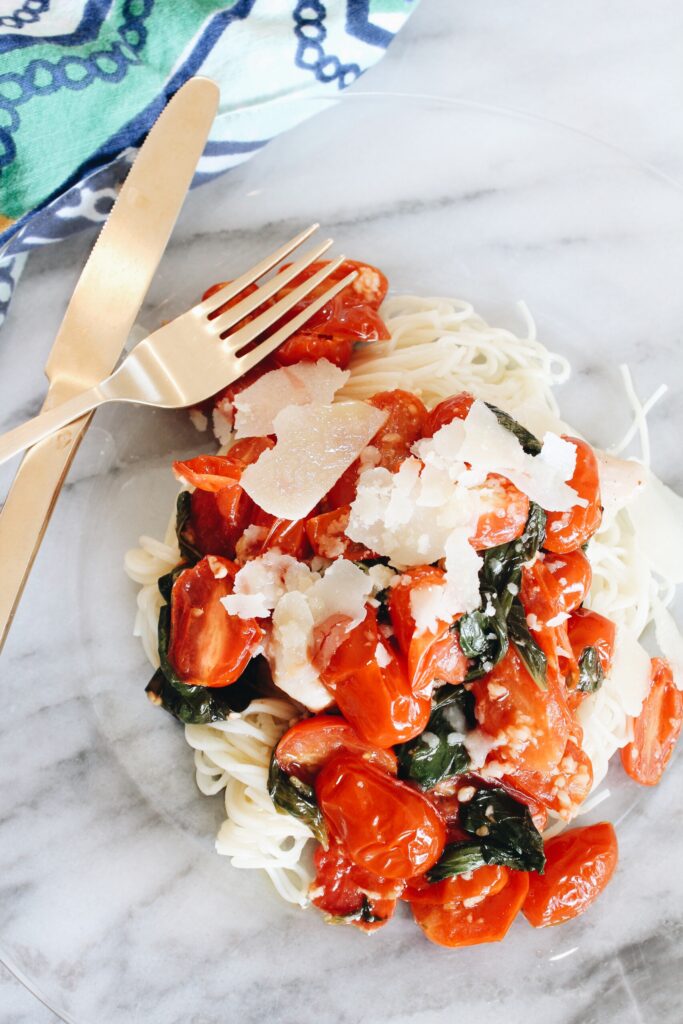 ANGEL HAIR PASTA
A bunch of cherry tomatoes, halved
An entire box of basil, torn off the stem (I buy the carton from TJ's)
6-8 fresh pieces of garlic, minced
Capellini pasta
1 lemon
1/2 cup of olive oil
3-4 pieces of chicken breast
Salt + Pepper
Fresh, coarsely shredded reggiano cheese
Boil some water with salt in a large pot for the pasta.
Pat chicken with salt + pepper and cook until browned, set aside.
In a medium-sized saucepan, pour 1/4 cup of olive oil and add the garlic, let it cook for 2 minutes on medium-high heat.
Add the cherry tomatoes to the saucepan, cook for another 3-4 minutes, allowing the juices to extract from the tomatoes.
Add the basil to the saucepan, mixing often until they begin to shrivel.
Once it becomes sauce-y, add the rest of the oil oil and lower the heat to low.
Let the mixture cook on low for another 5 minutes.
At this point your water should be boiling so cook your pasta. Make sure not to overcook.
After the pasta is ready / strained, scoop some onto each plate, add 1-2 pieces of chicken and top with the tomato / basil mixture, allowing some juice to seep over the pasta.
Drizzle each portion with some extra olive oil and fresh reggiano cheese.