I'm not even gonna lie, when talks of throwing me a bridal shower came about (about a year ago) I shot them down immediately. I felt because I already had an engagement party and will be having my wedding in Greece that I just didn't need another party in my honor. It was more about not pissing people off than truly not wanting a shower. After all, I have a secret Bridal Soiree board on Pinterest that would go to waste if I didn't have a shower…BUT, I came to the realization that my engagement party is creeping up on 2 years now so what's another little party?! When I finally gave the OK on the shower, things got real really fast!
Since the vibe and decor of my wedding has a 'less is more' theme, we decided it would be OK (aka more than OK!!) to get a little crazy / over the top / super girly with the shower. My mother has a tendency to go overboard when she's involved in any event, and while I fought her endlessly to not do the work for this party, I lost. She already had her mind set and I was not going to stand in the way (wonder where I get that from…). We spent many weekends planning, crafting, designing, baking, the works! Every detail–from where we will store ice, to how the gift table will transition into the gifting table, to which flowers should be in the bathroom–were accounted for. Nothing, and I mean nothing, was allowed to be average.
All I can say is, I'm one lucky girl! The women in my life (my mother, 2 sisters, best friend, future mother & sister in law) truly knew how to bring my Pinterest board to life. And the sweetest part was each one was concerned with a different part of the shower. Let me break if down for you: My mother needed the dessert table to be unbelievable. She has this obsession with Bottega Louie and pretty much needed it to come to life at the shower. She collected their boxes (the giant display ones they don't sell–only god knows what she did to get those!) and found a way to make the dessert ROOM absolute perfection. The food was Mediterranean blended with my favorite ingredients–goat cheese, arugula, etc.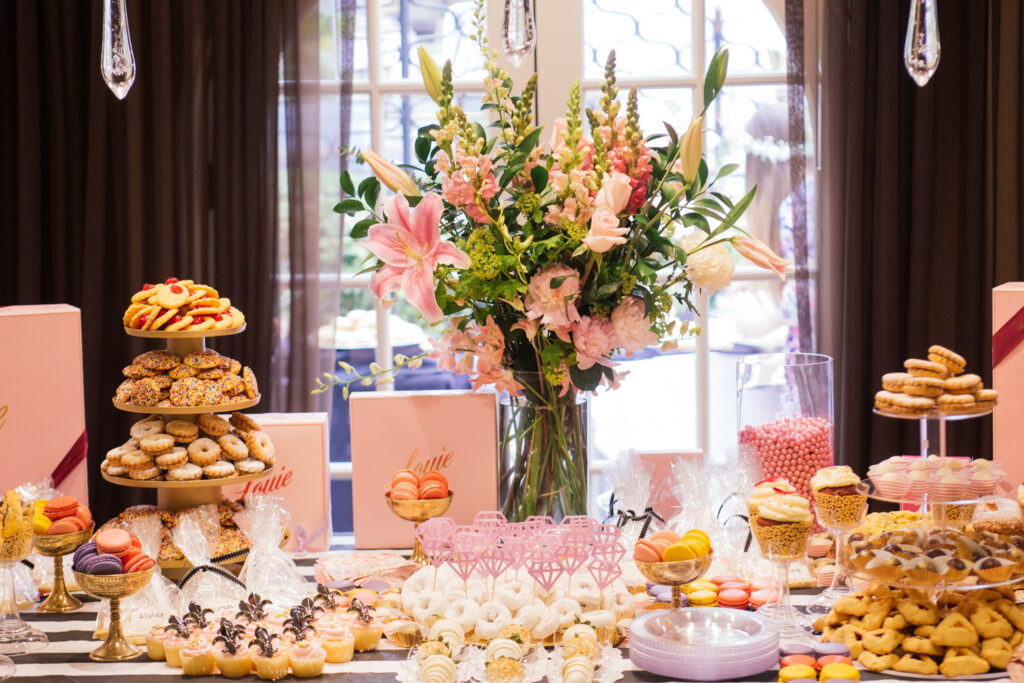 My maid of honor paid all attention to detail. My flower crown, the Wifey chair she hand-constructed for me, the lipstick board with the perfect assortment of lipstick colors (so I could actually hang it & it wouldn't look tacky), and the sweetest (literally) treat to greet guests as they arrived with a baby pink cotton candy cart.
My sisters made things come to life that can't be bought. A macaroon tower (all of my favorite rose flavor), the flower crown station with only the best colors and flower choices, the games, which reminded me just how bizarre some of my fears and dreams are! They made it all possible.
My [future] mother and sister in law filled the shower with luxury. My sister in law insisted on bringing in cuisine from LA's finest The Ivy, while also hand-making my favorite salads, to ensure all bases were covered in the green department. My mother in law focused on keeping the guests comfortable, making sure we had heat in the right places, valet so parking wasn't a headache, and most importantly, enough bartenders to keep everyone's glasses full!
See what I mean? I'm far too Type A when it comes to [my] events to just show up, but honestly, I totally could have. They had everything under control and it was dreamier than I could have ever imaged. Even with the rain that we were so fearful of all week, nothing could bring the mood down. Towards the end of the day Paul showed up with my dad and they got to join in on the fun with all the ladies. It was honestly one of the best days of my life.
Photography by: Felicia Lasala