This past weekend my family celebrated my little sister's graduation from Le Cordon Bleu. If there is anything to be known about my family and parties, it's that we cannot be average. There always needs to a "wow" factor, whether in the food, decor, venue, outfits, etc. For this specific party, being that we were celebrating a culinary school graduation, the food had to be on point. I somehow ended up with the job of coming up with a gift for our guests and I decided to do something a little outside the norm for me–bake! While I didn't actually bake (as in, use my oven), I did made a dessert.
I've been dying to make a little gold-foiled something with my sister, who is currently putting her site together (until then check her out on insta: @gypsetkitchen), and figured this is the perfect opportunity. It was simple, fun, and the results even impressed me! Hey, I'm a serious perfectionist about stuff like this and my effort alone deserves a little self love. Here's what I did:
Pick out some edible colored chocolates. I got mine at Kake Kreations.
After melting the chocolates in a glass measuring cup, I added a little crystalizer to help the chocolate thin out a little.
Carefully pour the chocolate into the mold and clean up all that extra mess around the mold so it doesn't change the shape.
Once the chocolate is fully dried (I put mine in the freezer for 5 minutes), pop out of the mold and clean all the edges.
Using a knife and paintbrush, break up the gold foil so it creates organic shapes.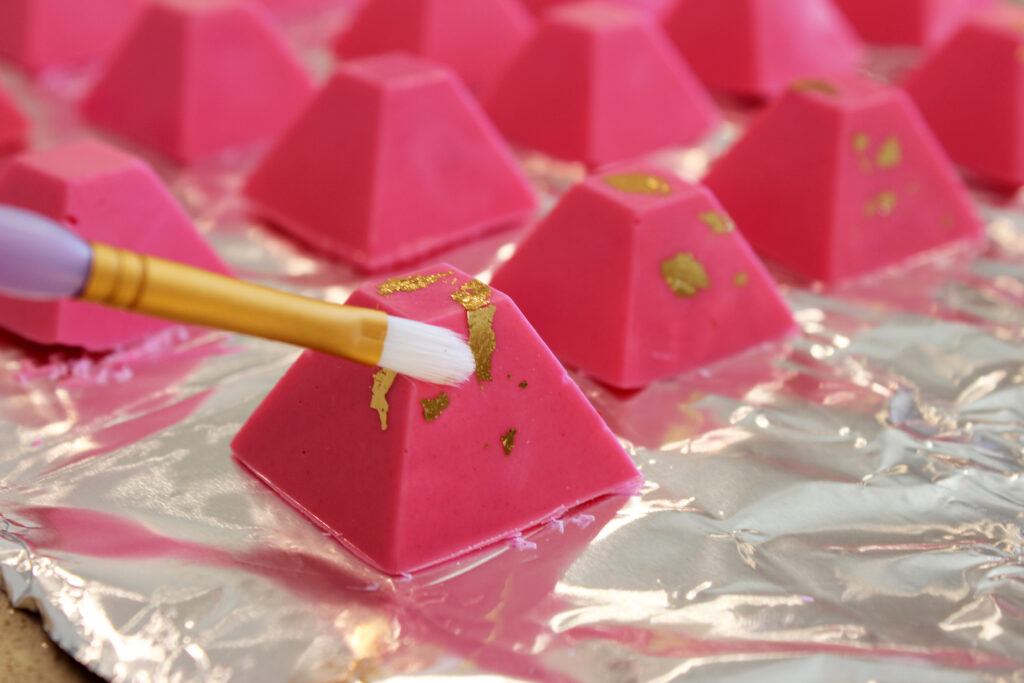 Carefully place the gold foil on the chocolate and pat down with the paintbrush.
That's all! I mixed this light pink color using some food coloring in the white chocolate. So Bottega Louie!