Halloween has always been one of my favorite holidays. I absolutely LOVE dressing up and take it very seriously. Funnily, my best friend has the same affinity for Halloween so we have always made it a priority to hand-make our costumes, and to try to outdo ourselves year after year. Since we put so much effort into our costumes it's nice to have somewhere to celebrate that doesn't include a club, a line, an expensive ticket, dealing with traffic (and Uber surcharges), etc.
I'm learning that a lot of people don't really love Halloween the way we do, so I've assumed the responsibility of changing everyone's minds by throwing really fun Halloween parties. Last year, since my backyard wasn't finished yet, I had a more intimate Murder Mystery party (so. much. fun.), but this year, since it's my last year in my 20's, I decided to go all out. And yes, since my birthday is always 5 days after Halloween I decided to combine the two. After all, partying 2 weekends in a row gets a little exhausting. I knew in early September that I would be throwing this party so I had almost 2 months to prepare–this is key for throwing a kick-ass party.
In my opinion, what makes a party special are all the details that go into it. The reality of attention to detail is as follows: it take TIME, money, research, planning, and patience. Often it requires assistance from others, as it is nearly impossible for one person to tackle everything unless you have absolutely NOTHING else to focus on. I consider myself a pretty good multi-tasker / planner so I was able to juggle my work and party prep by making endless lists and the beauty of delegation. Of course, delegation only works if you can relinquish control by finding someone you truly truly truly trust.
In my case, my mom is an absolute genius when it comes to desserts. She is the most creative person I know…and she will work tirelessly until her masterpieces meet her standards. I don't even have to think twice when she is in charge of dessert. Of course, I had some inspo I sent her way, but that's pretty much all I had to do. My sister, a budding pastry chef was also very much involved in the creation of my dessert table, so between the two of them I was all set. Sidenote: my 2 closest girlfriends, my mom, and my intern are THE only people on Earth that reallllllllly know what I'm talking about without having to explain. Pinterest people, you know? I had a pretty good team to help me put this party together.
My vision for this party was haunted mansion with a black, white, and gold color-scheme with red roses as an accent. I didn't want gross–no zombies, not too bloody–just lots of fog, lights, roses, skeletons, ghosts, and bold stripes. Simplicity really goes a long way when you have the right tools. Below I am outlining everything I do to make my parties super special and memorable. Since these tips specifically pertain to my Halloween / Birthday party, feel free to leave questions below for different themed parties.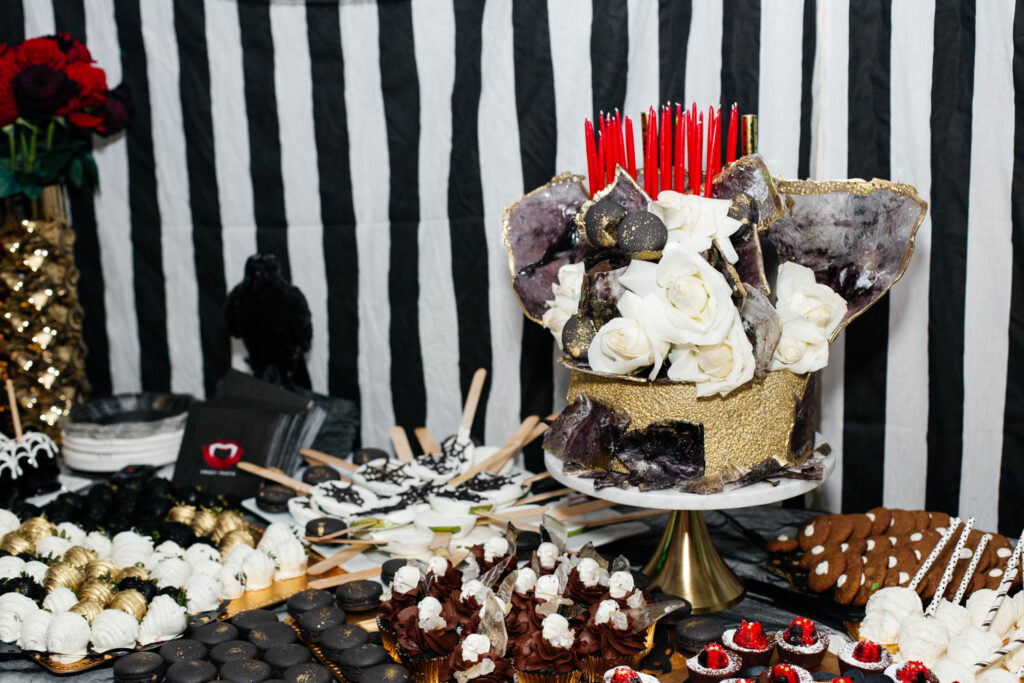 TIPS FOR MAKING YOUR PARTY SPECIAL:
–Start a [secret] Pinterest board: You need inspo, and the best place to start is Pinterest. You don't want your friends / guests to have too much insight into your event so keep it secret until all the details have been decided. Go to town adding pins, then once you've covered all areas of the party (food, drinks, decor, details), edit the shit out of it. Remove pins that no longer fit the theme, seem excessive, expensive, etc.
-Pick a theme / motif / color scheme: Ok, so not every party has a "theme" per se, but, it's super important to have some sort of vibe / vision. Otherwise you'll be all over the place and your planning will drive you crazy. You have to refine your vision so 1) others can get on board and help and 2) things make sense. It's very easy to get carried away.
-Have an activity or attraction: At this point in life we have all been to countless parties–some amazing, some mediocre, some I don't even remember. You want your party to be memorable and entertaining. When I put so much effort into my parties the last thing I want is for people to view it as a party to just "drop by for a drink, say hi, then bounce." You know? It's kind of a disappointment after you've poured all your energy into  your event. For my party I hired a real fortune teller and it was a big hit, sadly she was so busy all night I didn't even get to talk to her! But that's to be expected when it's your own party. Just like how you never get to eat at your own events.
–Put flowers everywhere: Sorry if this doesn't apply to anyone that isn't in Los Angeles, but we have the most amazing resource for flowers in Downtown. They are super inexpensive and well worth the drive (at 5AM to avoid traffic). Flowers are often time the only decor I have when hosting parties, as they make such a statement when arranged effectively. Think: interesting vases, varying heights, put them everywhere. Between flowers and candles, that's often all you'll need.
-Buy fabric in bulk: Again, another Downtown LA suggestion, but I refuse to buy fabric anywhere else. If I need to cover multiple tables, rather than buying table cloths I'll purchase fabric in bulk in downtown to use for table covers, runner, and backdrops.
-Simplicity goes a long way: People often think they need to be extravagant to make a statement at a party. Depending on your style, that might be true. However, for me I prefer to stick to the simple details (think: quantity over quality) and put them everywhere. I'll have tons of flowers, candles, golden details, lights, etc. and when put all together they make a great presentation and statement.
-Shop at unconventional places: I'll hit Party City for disposable forks or plates, but honestly, every time I drove by Home Goods, TJ Maxx, or Ross I would drop in quickly to scour the Halloween sections. I found THE cutest plates, napkins, and bowls that are unique, so cheap, and have a much more rich look than generic party store supplies. I also got straws, drink stirrers, doilies, table runners, and gold decor that I can reuse for years to come.
-Create a timeline: This part tends to be the hardest. I always want to start prepping way in advance to make my life easier the week / weekend of the party, but when an event is outside you have to consider the weather (see this post to read what I was dealing with), so often times set-up has to take place later than I would like. While that might be the case for many events, there's still plenty to get done ahead of time whether that's crafting, meeting with your "team" to ensure they understand their roles / responsibilities, booking vendors (bartender / DJ / entertainment), and of course purchasing all the necessities (cups, plates, utensils, fabric, decor, etc.).
-Map out the food, desserts, and drinks: This part is usually the most stressful, as it usually happens the last. You don't want food getting cold or stale so typically I'm running around like a crazy person setting up my cheese plate as people arrive despite all my efforts planning. What I've learned is there will always be people arriving early so get the food set up and DONE an hour and a half in advance. Thankfully I always have my mom to fill in for me so I can greet guests rather than cut up those lemons for water last minute.
And just to give you my go-to menu for parties, here is what I find people actually eat rather than throwing away tons of food at the end of the night. 2 large salads, a cold pasta salad, a cheese board with charcuterie, fruit, hummus + pita, olives, and mini sandwiches. I'm not big on chafing dishes so I stay away from hot foods if the party is after dinnertime. You MUST feed guests, especially if they are drinking, but keep in mind the time of your party. Mine started at 9 so snacks were acceptable, however, if a party starts between 7-8 often times dinner is expected.
For drinks: beer, wine, vodka, tequila, and whiskey are my standard alcohols. I always like 2 signature cocktails, and this time I had a spicy vodka lemonade and a tequila mojito. Both were a popular choice among the ladies.
For dessert (it's over the top because of my mom): red velvet cake, gold-dipped chocolate covered strawberries, stuffed chocolate covered strawberries, caramel apples (+ individual slices), brownie bites, cupcakes, cookies, and macaroons by the super talented Jonathan Caleb Cake.
-Send out a physical invitation: I love this old-school tradition (read more about it here). It sets the tone for your party–in my case I was letting people know it's a big deal to me, and guess what, everyone showed up so dressed up it was hard to recognize people! I absolutely LOVED all the effort people put into their costumes for my party. I know at this point in life we don't get too many physical invites so I like to give my friends a rest from wedding invitations and bills and surprise them with a fun party invitation instead.
-Don't forget personal touches: In other words, get your DIY on and craft! You don't want your party filled with details that everyone / anyone can buy so get creative and make some of your own decor–signs, framed menus, special balloons, tablescapes, etc. The creme de la creme DIY for my party was my custom donut wall, built by my dad. I (obviously) had to make my donuts and wanted to display them in a fun way. He took his job very seriously and added effects to be in theme for the party. Fog, sound effects, lights, a custom rose-lined sign with gold details…the wall took my donuts to another level!
-Make a custom Snapchat filter: I created mine on Photoshop and went directly through Snapchat to upload it. It cost me $5 and was a fun little detail to encourage people to snap more of my party so I would have more footage later on.
-Test out lighting: Since my party was outside it took Paul and I all month to figure out lighting. I never want the lighting (whether inside or out) to be too bright. We want mood lighting that fits the theme. I didn't want millions of extension cords running everywhere so I had to find some battery operated lights, as well as string lights, to get the job done. It was a serious mission, but between all the lighting we put in mixed with all the candles we set a pretty good mood.
Now let me share some of my fabulous guests' costumes:
Devon Rachel + Zack Tanc as Karl Lagerfeld + Chanel Kitty
Belen + Alejandro Salomon as Pablo + Tata Escobar from Narcos
Sophie Elkus + Christophe as Mario + Princess Peach
Javvy + Eric as Khaleesi + John Snow
Lady Gaga (AHS) + A Crow + A Unicorn + A Cat + Cleopatra
2 Beetlejuices (!!!) + Sugar Skulls + Dracula + his Bat + a 70's Babe
My Halloween Crew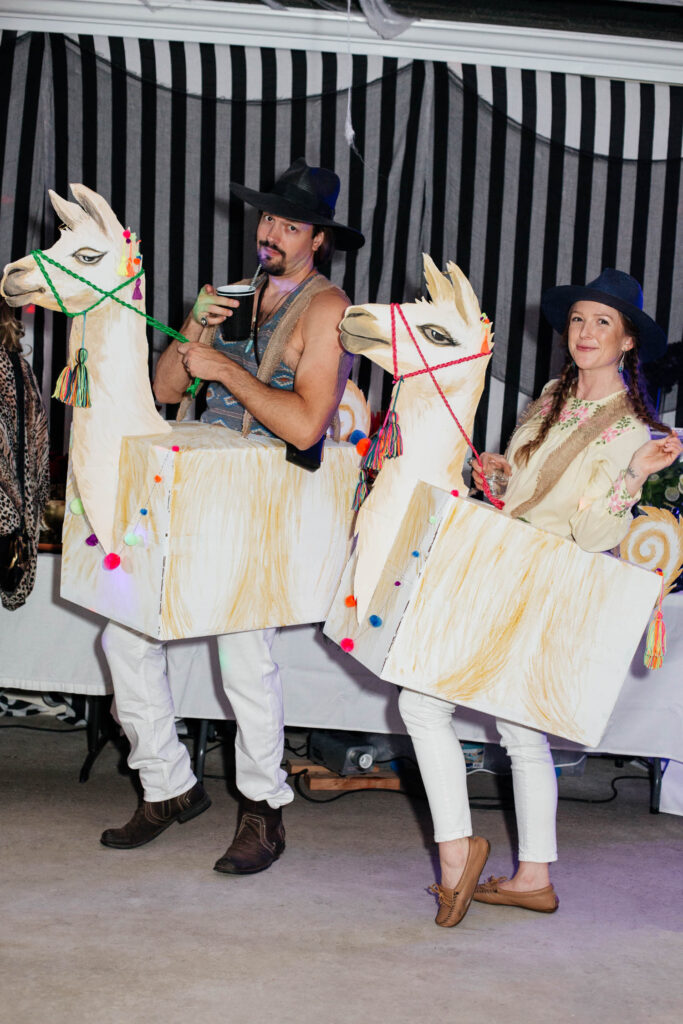 Most creative, handmade costumes ever! Llamas…by Becca + Clay Taylor
And of course my husband / slave Paul
Special thanks to everyone who made this party possible: Paul Richards, Mommy Vardi, Aba Vardi, Jessica Vardi, Schaeffer Carrillo, Felicia Lasala, Jonathan Caleb, Ross Risley, & The Richards.