You probably don't know much about my bathrooms, and that's for good reason. They are the most basic–in every shitty / generic way possible–bathrooms while still being "livable." Since my house was renovated prior to me moving in I felt bad tearing up bathrooms and a kitchen that I essentially paid for. So I decided in my next home I'll do the kitchen and bathrooms to my style. But then I changed my mind.
It all started last month after going to the Rosebowl [flea market] with my bestie, who convinced me to buy a ladder, rug, and Turkish towels for my guest bathroom. All super cute purchases but I wasn't totally convinced I "needed" them since I'm not in love with my bathroom. Does anyone else feel like that? Like you don't want to spend money decorating a space that you don't like?
Fast forward to today and I've made some really simple, affordable, and fabulous enhancements to my guest bathroom. I also ended up changing my counter-tops in the kitchen (post coming on that soon). I feel so much happier about this space, I can honestly say it was well worth every penny. To read more about the changes I made (and the costs), keep reading.
Here is a picture of the before. Things to notice: The faucets, back-splash, and mirror.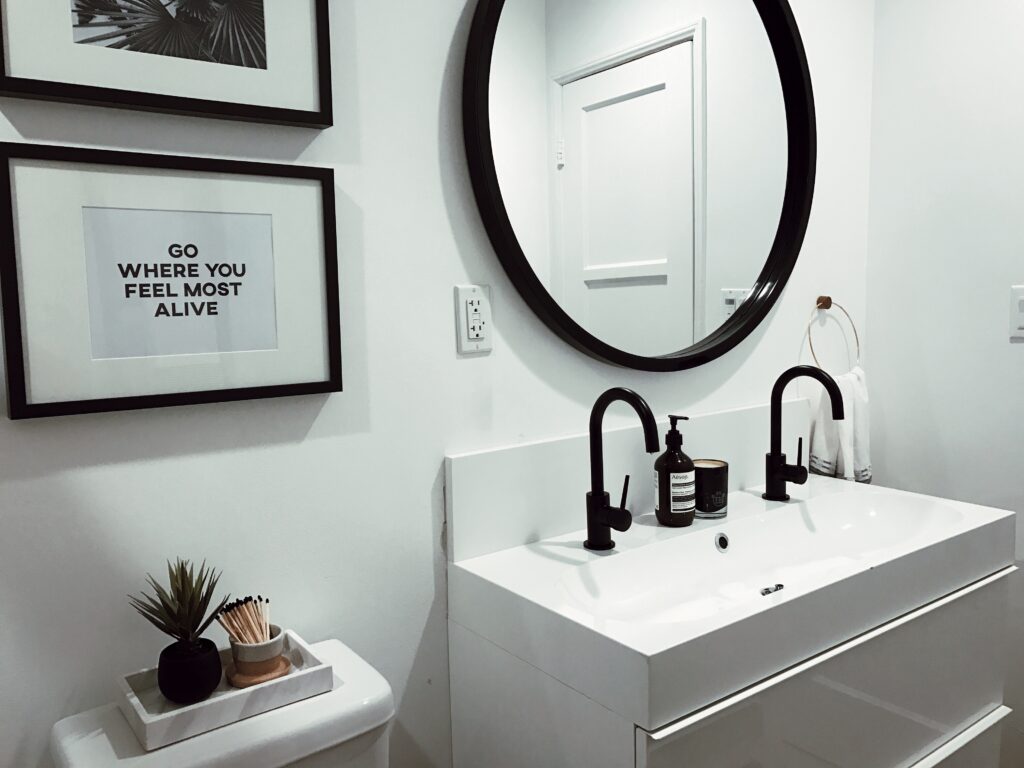 GUEST BATHROOM REVAMP:
–The mirror. That was the first thing to go. I already had this black-framed round mirror in my living room (purchased at the Rosebowl Flea Market for $200), and had my dad remove that flat nothingness and swap for this one. It instantly elevated the look of the bathroom.
-The back-splash. It was driving me crazy. WHY did they have to pick such a generic "accent" tile? It kills me. Rather than adding another busy tile, I opted for a simple white quartz that matched my sink. I got the piece from a tile scrap yard so there was no cost involved. However, you'll either have to get real hands-on with a good YouTube tutorial on how to cut tile, OR just hire someone to do this part.
–The faucets. Don't even get me started on why there are 2. I mean, this is a guest bathroom, not a master, so why the duel faucets?? But ok. I searched high and low for a cheap-ish faucet since I needed 2. I stumbled upon a great knockoff on Amazon for $60 each. Sold! This is the part when my dad starts to yell at me. He owns a plumbing company and after 30 years of business, he knows just about everything about cheap knockoff finishes. They don't work.
We installed the cheap ones because I was convinced it would get the job done. They looked great, but when you turned them on water would splash you in the face and the whole faucet and sink would shake. Not good. Shaking his head the whole time, we had to un-install, return, and wait for the new "real" ones to arrive. So much for $120 for fabulous faucets. My news ones cost me a pretty $500. Lesson learned, read reviews…
Sidenote, it would have been cheaper for me to just replace my sink and buy 1 faucet than the 2…but at this point there's no going back. Hopefully Paul doesn't read this (LOL).
–The hook. I found this hook at a super cute online shop that sells all sorts of modern home decor. They were having a sale at the time so I snagged this one for $40. To be honest, the quality sucks (sorry again dad) and the wood piece moves easily. BUUUUUT, I don't care. It looks cute and if someone is so aggressive that they pull the whole thing out of the wall then we shouldn't be friends.
-The artwork. The double frames added a lot of height to the bathroom. It's a very narrow space so I had to get creative about adding some dimension. The frames and ladder did the trick. I got the frames from Ikea ($10 each) and had my prints done at EZ Prints.
-The accessories. The rug I purchased at the Rosebowl for $100. The ladder and Turkish towels are from the Rosebowl as well. Towels are $20 each and the ladder is $100. The marble trey above my toilet is from Bed Bath & Beyond ($40). The fake succulent is CB2 ($10). The ceramic match holder is Amber Interiors ($32). My hand towels are Target and Home Goods. Soap is Aespo ($40), and candle is EB Florals ($70).
So when trying to figure out how much this cost, I realize that I'm very lucky to have my dad, who has had to learn how to be just about every trade possible. From plumbing, to electrical, to hanging things, to laying concrete, to painting and more, my dad is a crucial part of my home reno operations. For fun, I asked him to quote me on what he would charge to change my faucets and he said $165 each…so I saved big-time. In case anyone in Los Angeles needs a blonde-blue-eyed plumber who fully understands the world of plumbing, call up Vardi Plumbing. Not sponsored, obvi, but it's my dad!
All in, I paid $1232 for every change and item in this bathroom. I would LOVE to remove the accent tile from my shower one day, but I'll take a break so Paul doesn't pull a full-on RICHARD on me and bite my head off.