First stop, Venice, Italy. This was my first trip in a long time that didn't involve 99% beach time. I'm so used to the relaxation, endless cocktails, a tan, that walking around cities for 2000+ steps (approximately 9 miles, if you're wondering) per day hardly seems like a vacation! I'm not complaining by the way, I'm just saying that I've finally realized the difference between traveling and vacationing. Traveling is more about exploring, seeing things, being historic and educational, getting a real feel for a city. A vacation (to me) is more about laying on a beach for a week reading my book and being buzzed half the day. Honestly, two different things.
My recent trip to Italy, and more specifically Venice, Florence, & Rome (each city will have their own post so be patient), would definitely fall under the traveling category. I did SO much walking that my feet developed this horrible blood blister thing that's STILL there. It was hectic–lots of moving around, reading maps, navigating through crowds, researching the right places to visit, etc. Luckily I have the best readers and got many great recommendations from you guys so I [Paul] didn't have to spend hours reading Yelp reviews (which he still did, obviously). But it helped.
Venice is just like you imagine it to be. The canals, the colorful buildings, the architecture, the bridges…it's all there. It's a tiny city, really, but you can so easily get lost. We only spent 2 nights in Venice, as everyone had advised us that beyond that there isn't really much to do / see, and honestly that was perfect. It allowed me to see the landmarks, walk 9 miles, eat some amazing food, ride a gondola, and be on my way.
Below I've outlined everything from the hotels, restaurants, activities, travel info, tips, etc. in case you're interested in visiting Venice and need some insight.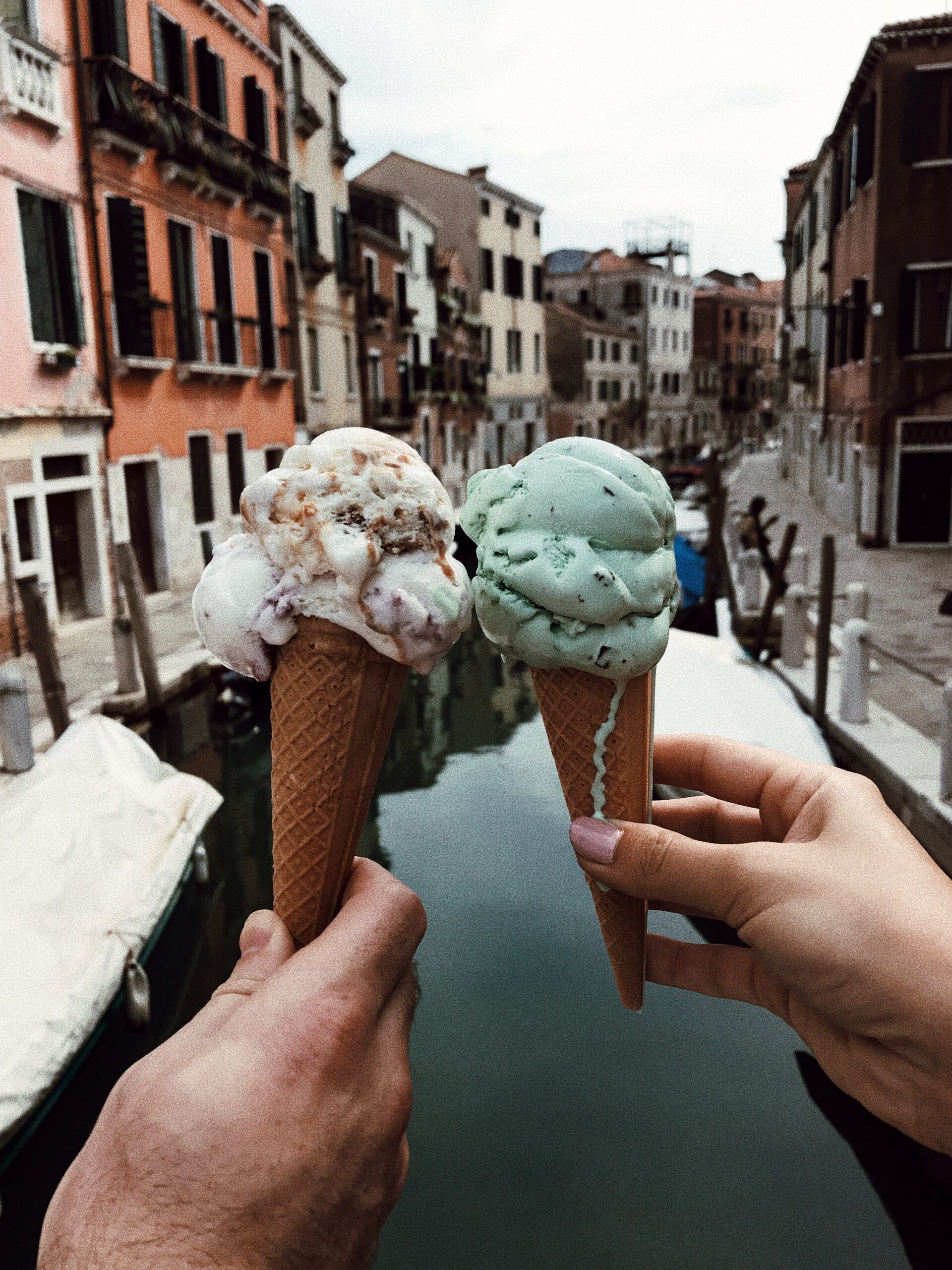 –Hotel: We stayed at Palazzo Veneziano, which was a great location since it was close enough to the main parts of Venice but also a little further out so there weren't people swarming directly outside. I was shocked how updated / modern the hotel was since in the past hotels we've stayed at in Italy have been a little dated.
-Restaurants: you really can't go wrong with any food in Italy, BUT, you want to make sure you're not missing anything extra special. Certain restaurants require a reservation but honestly half the time we just walked in. Here is where we ate in Venice:
Ristoteca Oniga– our first meal (dinner) in Venice did not disappoint. We ate tons of fresh seafood and pasta and each dish was more delicious than the last. Highly recommend.
Grom– gelato spot right next to the restaurant Oniga. Delish!
–Trattoria da Roberto– random little spot we stopped at for lunch while exploring. This is where I took the above picture with my spritz. The food wasn't exceptional (for Italy) by any means, but they made a great pizza and prosciutto & melon sitch.
–Muro Frari– our last dinner in Venice was pretty exceptional. You definitely need a reservation here. The place is super vibe-y, one of the few places we saw that actually plays music. Not really sure why so many places don't play music? But the food was fresh, homemade, & everything we wanted.
–Harry's– a lot of you told me I had to go to Harry's for a bellini since that is where it was invented. While the bellini was delicious, I was a little underwhelmed by the place. The location was so prime but yet they kept it super quiet in there and we felt like they just ushered tourists into a weird upstairs room with no windows. I really need to work on not looking like a tourist when I travel.
–Il Mercante– Paul found this little bar right next to Muro Frari so we stopped in after dinner to check it out. It's a 2-story bar that has a 1920's vibe to it but serves modern day cocktails. It's a mixology kinda place so order something special.
-Gondola Ride- this was obviously happening. It's honestly the best way to see the city aside from walking it, which to be honest, is exhausting. We did the 30 minute tour, which takes you through the smaller, less busy canals / streets, and the whole thing was romantic and sweet.
-Tapas in the street- this is something we discovered after our gondola ride on a Friday night. Locals were lined up along the canal walls eating yummy looking tapas and drinking wine, beer, and spritzs. The whole thing was so Euro-chic I had to participate. We stepped into one of the spots with loud Italian voices and picked out an assortment of appetizers to enjoy before dinner. We literally just sat on a bridge eating, drinking, & enjoying the atmosphere.
-The sights- we walked the Rialto Bridge, Piazza San Marco, the farmer's markets, but my favorite areas were far away from these populated areas. I enjoyed getting lost in the streets, walking down random alleys, & seeing all the original architecture where people live. All my best scenery shots were taken while exploring off the main areas.
-Travel- we flew from LAX to Paris, missed our flight by literally 2 minutes (SUCH a dumb story), and then into Venice. From the airport we took a water taxi to our hotel, and once we arrived we walked everywhere. From Venice, we took the "water bus" to the train station and headed to Florence.
Stay tuned for the next city's blog post. Until then you can check out my other Italy travel posts on: Capri, Positano, or Lake Como.