Well, it happened. I turned 30! On my last day of 29 I felt a little emo and and unsure how to spend the day, but on my actual birthday, I felt 100% fine. I love to celebrate and throw parties and having something to look forward to (in general) always makes life more enjoyable. This year I opted for a 70's skating disco theme. I told my guests 'anything goes' for attire, but I love how almost everyone went full on disco glam. Secretly I loved my hair and makeup (& outfit) so much I wish this whole look would come back in style.
I've received numerous questions about my party so I thought I'd share a recap of all the details in case you're considering having one of these [super fun] parties for yourself. To start, I was heavily inspired by Cher. Her outfits are next level and seeing so many pictures of her rollerskating revolve on Pinterest kind of sealed the deal for me. The hardest part was deciding on a venue since I'm not the biggest fan of cheesy. If you know me, I love glam, over-the-top details and this was far from my norm. However, I fully embraced the retro vibe of the skating rink and in the end it coudn't have been more perfect.
Aside from the nasty hangover that is still plaguing me, I can't stop thinking about all the fun moments, music, outfits, and photo ops from the party. I already have a feeling 30 is going to be a good year for me. Continue reading for the complete breakdown.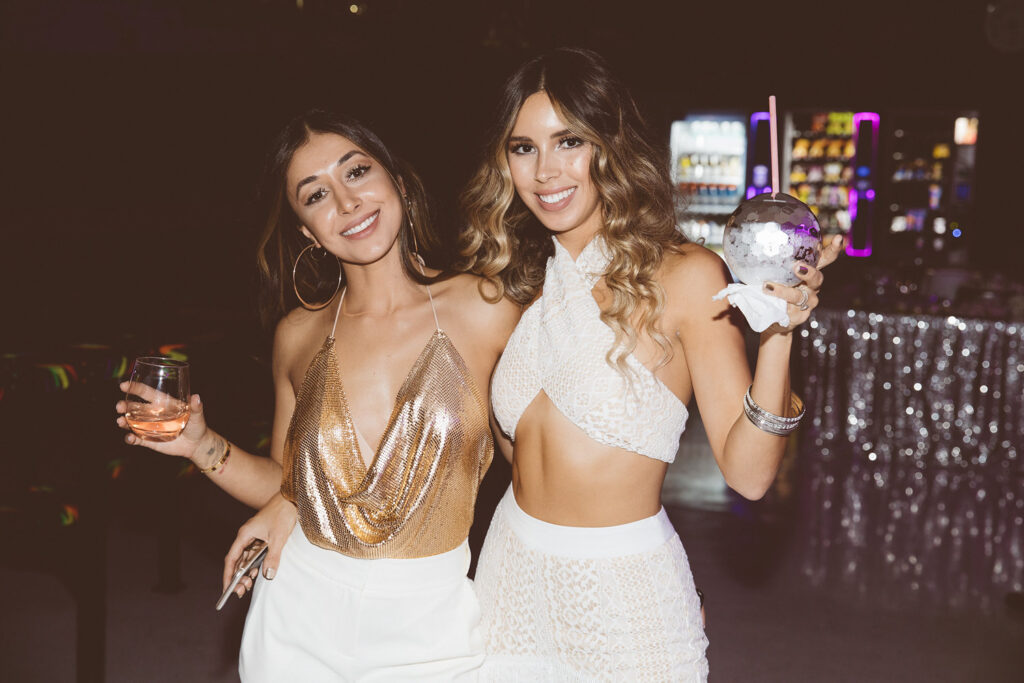 The Venue: Moonlight Rollerway. You may recognize this place from Jessica Simpson's Public Affair music video, and I'm pretty sure the guy handing out skates in the video is the same guy who worked my party! I love the retro vibe of this place, it fit the theme perfectly. I rented out the entire space so my guests could skate in peace, aka try to not die without being laughed out by strangers.
The Photobooth: Foto Vibe. I had envisioned a metallic wall, 1987 balloons, and disco balls and that is exactly what I got. In my opinion it's important to have a photo op moment to make sure all the guests are documented since not everyone is as phone-obsessed as me.
The Food: Richeeze Melts Food Truck. I wanted the food to be yummy, filling, and hassle-free. Since we didn't have access to a kitchen I enlisted the help of Bistro Planet to find me the perfect truck for my needs. The food was all mac-n-cheese based so you can only imagine how fatty and delicious it all was!
The Dessert: My Mommy & Sister. When it comes to dessert tables I leave it in the hands of the only 2 people I trust. Together they created a spread that included mini donuts, disco ball cake pops, meringues, brownies, watermelon with Tajin & lime cups, and of course mini cakes. If you're interested in having them create a dessert table masterpiece at your party, find them on IG (@gypsetkitchen & @annievardi).
The Gelato: Bacio di Latte. Later on in the night I had gelato brought in for the guests. Bacio di Latte is new to Los Angeles but are well known in Italy. They are an authentic gelateria with incredible flavors that you must try!
The Drinks: I was sipping on spicy margaritas all night, courtesy of Viva 32 tequila. Not only was my drink delicious, the bottle was equally cute, which is always a plus. I have a drink recipe coming soon! Guests also enjoyed vodka-based cocktails from Carbonadi, and of course Miraval rosé. Thank you so much to my incredible alcohol sponsors for providing the liquid courage we all needed to skate!
The Makeup: Too Faced. I have a 70's glam makeup tutorial coming soon, but I also wanted all my guests to feel glam and festive at the party. Too Faced was equipped with the best glitter makeup and by the end of the night all my guests were rocking glitter eyeliner!
The Decor: I kept things pretty minimal since the place is so retro. Instead of trying to cover it up with a bunch of pretty things, we used all the cheesy corners to create fun photo ops. I just made sure there were plenty of disco balls scattered throughout.
The Music: My best friend and I spent over a month perfecting the playlist. We wanted the best of the best of the 70's. We made sure that every song played was fun and recognizable so everyone could sing and dance / skate along. If you are in the mood for a fun 70's playlist, you can find my party one on Spotify. My username is Sivan Ayla Richards and the playlist is called DISCO.
The Outfit: I had initially thought I would wear something sparkly but I came across a white fringe outfit on IG and then spent the next 3 hours searching for something similar online. I ended up ordering an outfit off Ebay and taking it to my tailor to construct me a top that would fit perfectly. I topped it off with some huge hoop earrings and bangles, and of course my pink skates.
The Extra Shit: Glow sticks were handed out to skaters and I had a Polaroid camera station for people to have fun with. Since I was the birthday girl I sipped my cocktail out of a fun disco ball tumbler AND I wore pink bedazzled skates. Basically as EXTRA as it gets!
I also have to give a shout out to my incredible photographer Felicia Lasala for capturing all the epic moments (including my nasty fall thanks to Paul [RICHARD])! I was so immersed in mingling that I hardly took any pictures but luckily she was able to capture (& edit) everything perfectly!