3 STAPLES YOUR CLOSET NEEDS
In Los Angeles you never really know when spring is here. Honestly, I've lost track of when the official seasons are supposed to occur since we can have an 86º day on Monday, and a 68º day on Tuesday. Currently (February), we've been having all 80+ degree days and I'm not mad about it. My ideal outfit consists of the following: jeans & a top. That's it. Once a jacket becomes necessary I'm over it. Seriously! Who wants all that hassle?! Today's post is dedicated to showing you guys some of my favorite transitional looks, aka the ones that work if you're not quite in spring yet, but it's getting pretty damn close. These looks all have one thing in common; each look has a staple piece that every girl should have in her closet.
Gentle Fawn is a contemporary clothing line that infuses feminine touches into everyday basics. I personally look for pieces that can be dressed up with heels, or dressed down with sandals, and Gentle Fawn created a collection full of wardrobe staples with versatility. I'm always going on and on about having a closet full of wardrobe staples rather than trendy of-the-moment items, and this line is the perfect example of good . You can always find endless ways to mix things up and style basics differently. Today I'm showing you 3 ways I've styled my Gentle Fawn staples from their latest collection.
Bodysuit – I opted for something more girly. I paired it with my distressed denim skirt to balance the feminine lace bodysuit. I would also wear this with some high-waisted black skinny's for a sexier date night look.
Lace-up Sweater – The fabric of a sweater is the most important part (IMO) because it determines the way it will hang on you. I love an oversized sweater but it can eat you alive if it's TOO boxy; this sweater has just the right amount of draping to it. I paired this lace-up sweater with my go-to Levi's for an everyday casual look. Don't be surprised if you see me in this same sweater with denim shorts on one of the hotter LA days.
White camisole – I paired this dainty tank with a pair of light high-waisted jeans for a more polished look with heels. I will also be wearing this tank with overalls, shorts, etc. You can never have too many white tanks!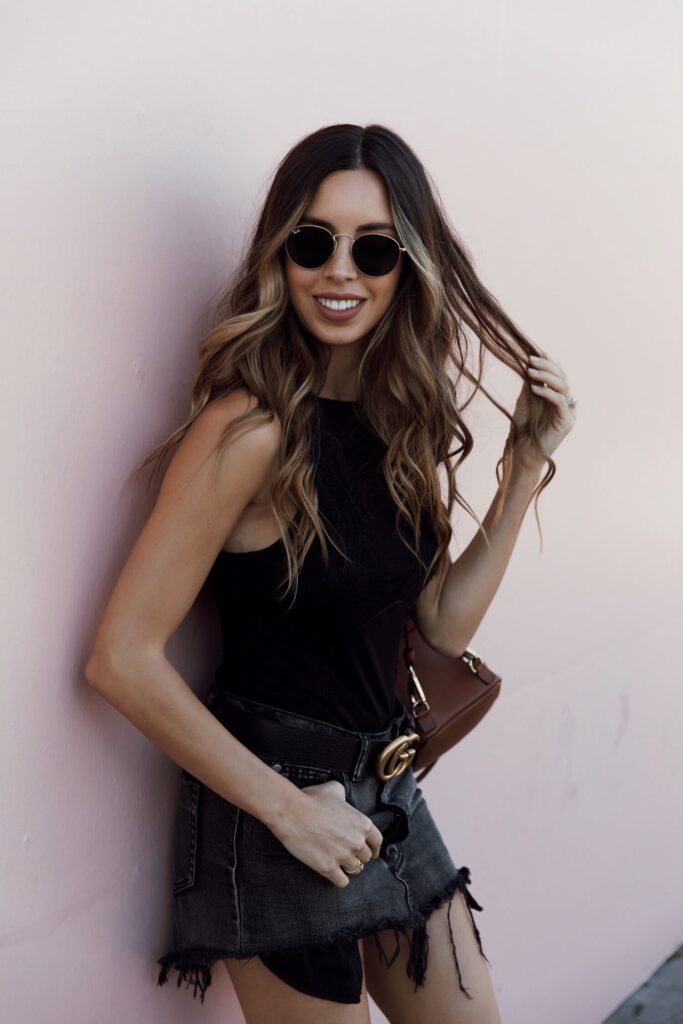 Shop the latest Gentle Fawn collection here!