Currently Loving At Sephora
Am I alone when I say Sephora is just the mothership of every girl's beauty fantasy?! I mean, we've all had the dream where you're at Sephora running wild buying everything in sight. That's the dream. Even as a beauty blogger who receives a good amount of gifting, there is still something super exhilarating about a Sephora run. I also find it funny that those tiny little Sephora bags really do hold the most exciting purchases somehow. I guess good things really do come in small packages 🙂
I recently made a Sephora run to pick up my staples and decided to grab a couple new products as well. Predictable, right? I've been dying to try Rihanna's makeup line, Fenty Beauty by Rihanna, and below I've reviewed my first product from the collection. I also reviewed the Kat Von D Tattoo Liner, Sephora Collection #Lipstories Lipstick, and the Too Faced Better Than Sex Mascara. Using these 4 products, with a couple additional products I already had, I created this simple look that's fresh and quick for summer.
There is a 60-second tutorial on my Instagram if you want to see how I created the look start to finish.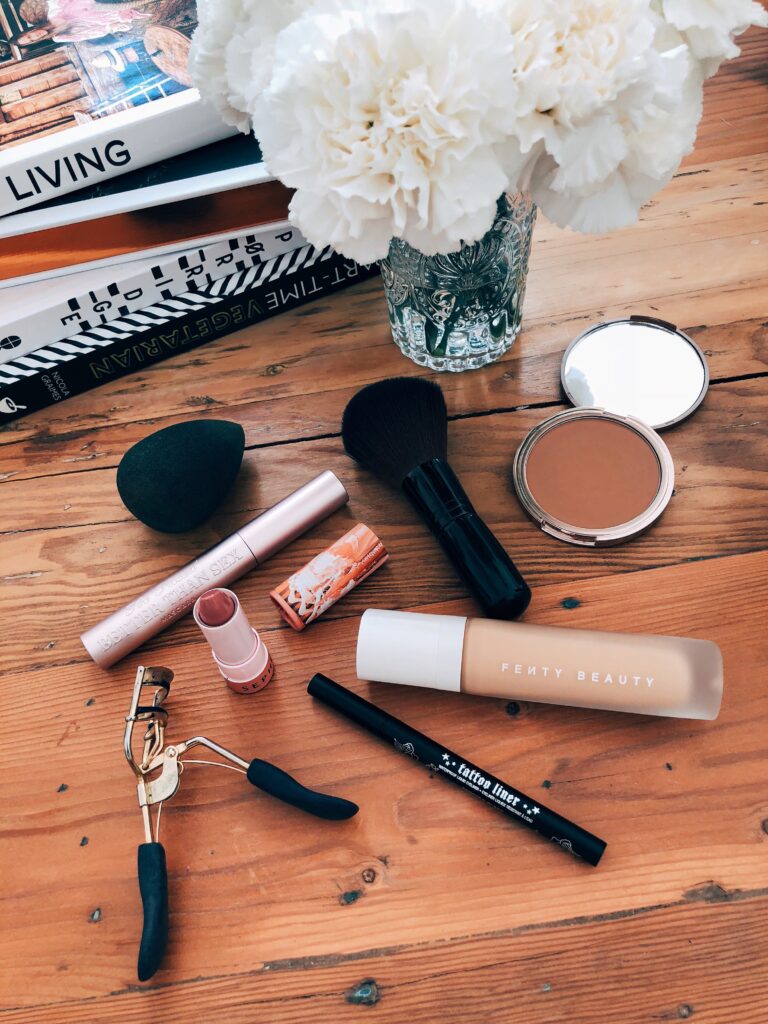 Fenty Beauty by Rihanna Foundation: LOVED this foundation. It was creamy, smooth, left my skin with a nice hydrated finish, and wasn't too heavy. They color-matched me at Sephora and this shade is pretty close to my natural skin with a little hint of tan…perfection!
Huda Beauty Desert Dusk Palette: This palette is perfect because it has the neutral tones you'll need as the base for any look, as well as the fun colorful ones with some shimmer. For this look I used Musk for my all-over color, and Desert Sand just below the crease.
Kat Von D Tattoo Liner: I've heard endless good things about this liquid liner so it was about time I tried it myself. Happy to report the rave reviews are right. This liner is easy to use, glides on nicely, and doesn't get dry.
Better Than Sex Mascara: Another fan-favorite. This mascara has been in my makeup drawer for years and it doesn't get old. I honestly believe something about the weight distribution in the applicator has something to do with the way it coats the lashes, but even if I'm totally imagining that, the bristles are chunky and thick, making you have the perfect curled & bold lashes.
Sephora Collection #Lipstories Lipstick: You honestly can't beat the price ($8!). I wanted to find an affordable lipstick with a great color selection. You all know my mauve-nude-pinky-brown lipstick collection is forever expanding so you can add this one to the list (03 Oui)! I approve. The lipstick is creamy, pigmented, and the perfect shade of pink-brown.
What are your Sephora must-haves? Anything you're dying to try? I'm ready for more!