You guys seem to like when I break down my honest thoughts on a topic or item as I did with my designer bag collection, so today I'm reviewing Amazon workout sets. At least the ones I've bought and kept over the years.
First, a few general thoughts on Amazon sets, and then I'll break down FAQs I've received about specific sets I wear often. You can see all the sets I own on my Storefront.
OVERALL THOUGHTS:
+ For the price, I'm generally happy with the workout sets.
+ I especially like Amazon for the trendier workout sets, like bright colors and trendy cuts. To me, spending $30 on something that might not be in style next year makes sense.
+ I really only do Pilates and walks these days, so low-impact workouts, which most of the material is fine for.
+ I like to order up (to a small) in most sets because they do run a bit small.
+ I wear my regular Hanky Panky thongs with them and personally don't mind a line here or there. I've also wear these with certain colors or materials for a seamless situation.
+ I do still splurge on higher-quality brands like Set Active and of course, Tan + Lines SPORT, and prefer those for higher impact workouts. Or for basics that I want to last for years.
MY MOST-WORN SETS + DETAILS:

One-Shoulder Set (left):
+ Good for working out
+ Doesn't move around
+ Color can be slightly see-through when stretched
+ Wearing size small in beige but I wear an XS in the avocado green since it's less see-through
Halter Neck Set (right):
+ Good for low-impact workouts like Yoga or Pilates
+ Stretchy & comfy for travel or everyday wear (like this), too
+ Wearing size small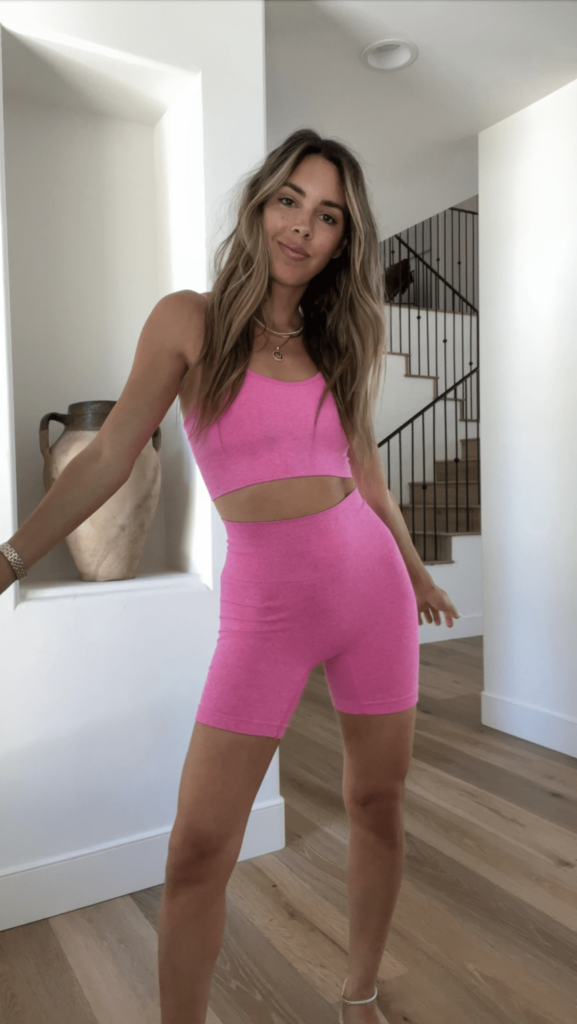 Basic Biker Shorts Set (left):
+ Have done it all in this set – works for everything all types of workouts
+ My favorite for 'everyday' styling; own all 7 colors and you can see other ways I've styled it here, here, and here
+ Wear a seamless thong w/ this set
+ Wearing size small
One-Shoulder Shorts Set (right):
+ Not for working out. Moves too much.
+ Cute as an outfit
+ Love with a button-up open & slides as I styled here
+ Wearing size small in beige
Basic Leggings Set (left):
+ Suitable for working out
+ Super flattering butt
+ Compression is good
+ Extra high waist
+ Own most colors
+ Wearing size small in brick red (more brown than red)
V Neck Set (right):
+ Good for working out or styling as an outfit as I did here
+ Flattering sports bra
+ Also comes in a biker shorts set
+ Wearing size small
Anything I missed?